Frequently Asked Questions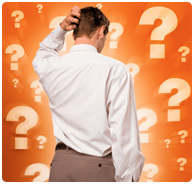 If I haven't filed tax returns in a long time, am I going to cause the IRS to come after me as soon as I file the delinquent returns?
Contrary to what many people think, the IRS does not, "come after you," as soon as you file the delinquent returns and re-enter the system. If, after preparing the returns, you owe the IRS an amount that you can't afford to pay, we can negotiate a payment arrangement with them on your behalf. Consultax handles everything! You'll never have to meet with or speak to an IRS representative! Go to BACK TAXES for further information.
How much do you charge to prepare tax returns?
For personal tax return preparation, Consultax charges a per-form amount as published in our price list. We pride ourselves on our fair pricing and will meet or beat the prices of those large, nationally known "assembly-line" preparers. We would be happy to fax or mail you a price list upon request. Go to CONTACT US for further information.
All other return preparation, such as corporate, partnership, payroll, estate and trust is billed hourly. Upon review of the information that will be used to prepare these returns, the accountant will quote the cost of the preparation, along with any required bookkeeping necessary to complete the task. We quote our jobs up front and we stand by our quotes!
What does it cost to negotiate an IRS installment agreement?
We charge a fixed fee of $500 to negotiate an IRS payment plan for all taxpayers who owe the IRS less than $20,000. In cases where the taxpayer owes $20,000 or more, we charge a $750 minimum fee/retainer and bill hourly against it.
Why, you may ask, are these handled differently? Simple, when you owe $20,000 or less, the IRS-ACS (Automated Collection Systems Division of the IRS) will handle the file. The procedures are standardized and predictable, which enables us to charge a flat fee.
However, when the liability meets or exceeds $20,000, the IRS will send your file to a local revenue officer for collection. Depending on the amount due, the Revenue Officer's caseload, and often, their personality, these payment arrangements can be complicated, time-consuming and a test of skills. They are unpredictable at best, and require an experienced negotiator on your side! Go to INSTALLMENT ARRANGEMENTS now!
How do I stop the IRS from levying my paycheck?
A lot depends on whether you are current with your tax return filings. If not, we would first need to prepare all delinquent returns. Next, we would negotiate a payment arrangement on your behalf and request a release of levy at that time. Go to the WAGE GARNISHMENTS section of this site and follow the instructions!
Can Income Taxes Be Discharged in Bankruptcy?
Contrary to popular belief, income taxes can be discharged in bankruptcy, however, there is a lengthy, complicated set of rules that must be considered for each year's income tax liability. Consultax doesn't handle bankruptcies, but we can refer you to someone who does. Go to DISCHARGE OF TAXES IN BANKRUPTCY now to see more!
What about filing my state tax return?
Consultax prepares tax returns for all states with an income tax. We are also capable of handling the negotiation of payment arrangements with those states. Go to CONTACT US now!
I'm not sure what to do first, how do I get started?
Simply go to the CONTACT US section of this site and follow the instructions!